We've launched another perfect pairing that will be available on sale July 29 – August 11, 2022: Tangerine Balsamic + Blood Fusion Olive Oil.
Blood Orange Fusion Olive Oil is one of our most popular olive oils. Customers love it!
Our Tangerine Balsamic has a tangy-citrus flavor combined with old-world style balsamic. It's terrific on salads, fish and ice cream and would also make a great spritzer when paired with sparkling soda.
Blood oranges and olives are pressed together to create our Blood Orange agrumato (or combination) of whole, fresh citrus fruits crushed with olives. Use the Blood Orange Fusion Extra Virgin Olive Oil on fish and seafood, chicken, fruit, salads and much more.
How to use this perfect pairing
Recommended ratio: Start with equal parts olive oil and balsamic, then adjust by adding an additional part of one or the other to suit your palate. Example: 2 teaspoons oil, 1 teaspoon balsamic.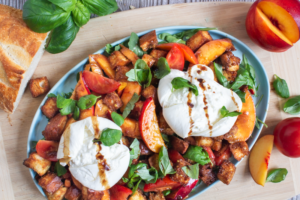 How to use this pairing:
Make a marinade for beef short ribs
Toss it with tofu
Dress a greens, roasted beet and citrus salad
Drizzle it over fresh or grilled fruits
Deglaze or reduce for a fish dish
Serving Suggestion: Panzanella
Panzanella is an Italian bread salad, often made with tomatoes, herbs and a vinaigrette. We've added yellow nectarines and burrata, and made a vinaigrette with shallot, blood orange olive oil and tangerine balsamic. Trust us, you'll want to make this again!
Perfect Pairing Box: Tangerine Balsamic + Blood Orange Fusion Olive Oil
Product Code: Tangerine Balsamic + Blood Orange Fusion Olive Oil
Availability: In Stock
Regularly $19.99

SALE! $14.99
Tags: Sigona's Tangerine Balsamic, Sigona's Blood Orange Fusion Olive Oil, Perfect Pairing