Grapefruit White Balsamic -- Condimento • All Natural -- 200 ml.
Our Grapefruit White Balsamic sparkles with crisp, clean citrus flavor. It has a perfect balance of acidity and natural sweetness. Try this amazing balsamic in dressings paired with fennel or get fancy and make a white balsamic grapefruit granita or sorbet. It's even delicious in cocktails or shrubs.
Recipe Suggestions:
· Grapefruit & Greens Salad with Avocado, Pistachios and a Grapefruit Vinaigrette
· Grapefruit-Infused Balsamic Shrub
· Mandarinquat & Avocado Salad with Shrimp and a Sweet Balsamic Vinaigrette








Grapefruit & Greens Salad with Avocado, Pistachios and a Grapefruit Vinaigrette
This is a cheerful salad for winter. The a tangy pink grapefruit awakens the palate while the dried cranberries and pistachios add more layers of flavor, interest and delight to the dish. Leave off the cheese if you wish. Adapted from The Olive Oil and Vinegar Lover's Handbook. Serves 4.
Vinaigrette: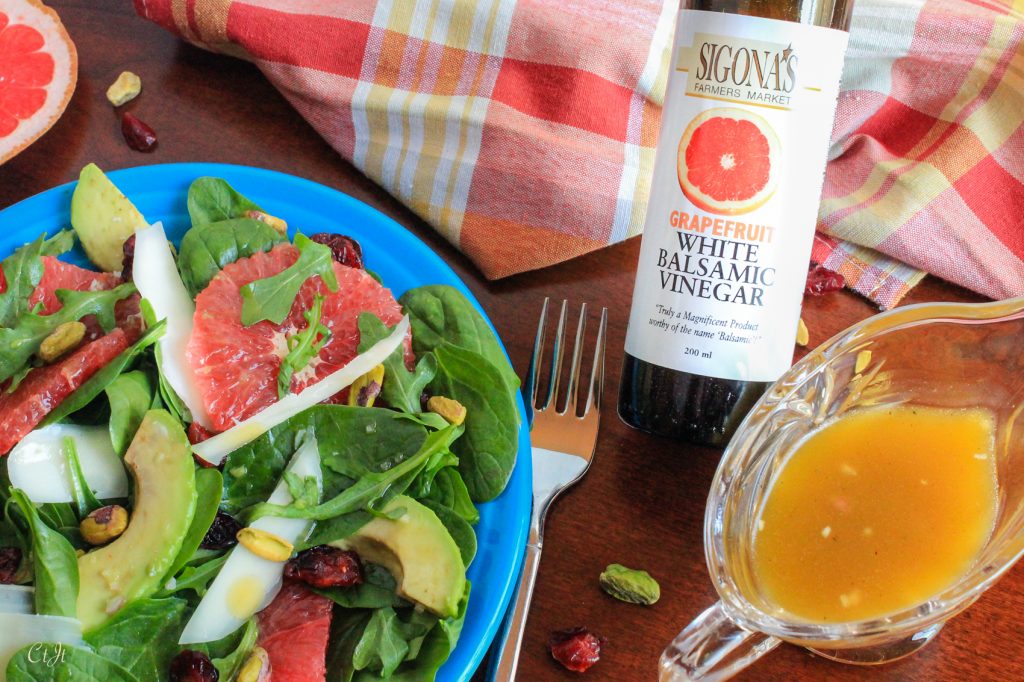 1 Tbsp minced shallot
1 tsp Dijon mustard
1 tsp honey
Salt and pepper, to taste
Salad:
A mix of spinach and arugula, a generous handful per serving
2 medium avocados, peeled, pitted and sliced lengthwise
2 to 3 Rio Star grapefruits, peel and pith sliced away, fruit supremed* or sliced into rounds
About 1/3 cup pistachios
About 1/3 cup dried cranberries
Shaved Parmigiano Reggiano, optional
Directions: For the vinaigrette, whisk the balsamic, shallot, Dijon and honey together in a bowl. While whisking, drizzle in the olive oil, mixing until emulsified. Season to taste with salt and pepper.
In a large serving dish or on individual salad plates, arrange the greens with a few slices of avocado and grapefruit supremes or slices in an attractive pile. Sprinkle with the pistachios and cranberries, then top with Parmigiano Reggiano shavings, if using. With a light hand, drizzle a little of the vinaigrette on the salad/s. Serve remaining vinaigrette on the side.
*Supreming citrus: It takes time and patience, but is well worth the effort! To do this, cut the top and bottom off of your citrus fruit. Slice the peel from the fruit, top to bottom, getting as close to the flesh as possible. Once the peel is removed, slice any remaining pieces of white pith from the fruit so no white remains. Then, working over a bowl to catch the juices, slice closely along the sides of each membrane to neatly remove the citrus segments in between. And there you have it!
Grapefruit White Balsamic
Product Code: Grapefruit White Balsamic Vinegar
Availability: In Stock